After finishing Joshua Tree park, it's time to head out for Sin City – Las Vegas baby!!
You have several ways to get there. If you are leaving from the North part of Joshua Tree, an idea is to first visit the Indian Cove and after that head to the Mojave National preserve, it's perfect for cruising and to experience that 'roadtrip feeling', just be very carefull for all the potholes and make sure you have enough gasoline :). After the preserve, you have a small strech of Route 66! You cannot find any signs by the road, I actually wonder if they still have the signs since there are many 'collectors' out there 🙂
You will also pass train tracks with 'supertrains'. I've counted 150 wagons!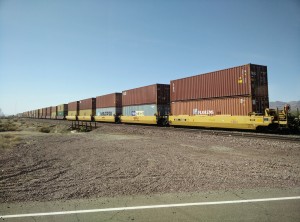 When approaching Vegas, you can suddenly see casino's and resorts rising in the middle of a dessert. They all make sure to get your attention with huge signs & flashing boards :). The highway 'miles' are also sponsored, making sure they are in perfect conditions! Because you don't want to have your company name linked to bad road conditions.
They say Vegas has the most parking garages in the world, and most of them are free for a limited amount of time.
Tonight, something I rarely or never do: clubbing!