Getting there
Last minute, Jonathan a local from Vegas decided to join me on the trip. So from now on I will often use 'we' 🙂
The way to Zion from Las Vegas is extremely scenic! But also very windy, I would never try this on a bike. It became clear we were entering a more remote area since the cellphone connection got lost (at least for T-mobile, I understood AT&T + Verizon are better).
I decided to take a small detour and drive through Lake Mead. You need to pay a permit but it's valid for 7 days, including access to the Hoover dam as planned on the way back.
We arrived in the evening, and since you can reserve the main camping it was already fully booked. In this national park you have many rangers patrolling, so camping inside without reservation is a bit more tricky. Furthermore, in this season not all the roads are accessible by car and restricted to the shuttle bus. We parked just outside the park on a parking and enjoyed water-drained soup 🙂
Zion Day 1
Taking the shuttle bus is convenient, on the bus they even give you some explanation about the park from different perspectives (e.g. a photographer and park ranger give their perspective).
Our first big hike was Angels Landing, ranked in the top 10 of USA hikes. A trail where you need to crawl in the end to the top with rewarding views. You have a chain to assist you, personally I saw it as a nice challenge to get to the top without using hands or the chain 🙂
After several days of driving and hiking, you start to feel a bit dirty. Since the main camping-ground 'watchmen' has no showers, you need to find those in town (we found only 2). These are located within shops, and also has specific opening times. Since all of those are closed, we jumped in a swimming pool resort. Know that here, upon trespassing you can get to jail.
Zion Day 2
I still did not have any good sunrise pictures, so in the evening we drove up to the viewpoint 'canyon lookout' that is supposed to be one of the best places for sunrise. We parked on the parking lot very late, enabling us to cook without being noticed since they do not seem to patrol this road.
(Too) early in the morning, I woke up to hike the trail leading to the canyon lookout. To my surprise, I was alone, but arriving at 6am in this period is just too early. After one hour, other photographers eventually joined me. The view is nice as it is a lookout. However, it just takes too much time for the sun to hit the rocks. My opinion is that this location is best visited during the day, when most rocks & the canyon are fully lit.
After sunrise, we drove to the city Springdale to get gear for the Narrows. The Narrows is a hike in the cold river, in the middle of a scenic canyon. You can choose to go all the way up, this would take you 8 hours, or return any time since you need to get back the same way you came. Having the proper gear is important, as the river is cold and you will get wet till above your knee. Furthermore, most of the canyon is in the shade. Basic material are anti-slippery shoes and isolating socks, you can get those for 20 USD. You can also either get a wet or dry suit for another 20 USD. The cheapest rental places are a bit further in town. Note that a rental is valid for 24 hours, and since the most shops only open at 9am, it's best to get your gear the day before.
IMG 4263
IMG 4952
IMG 4949
IMG 4943
IMG 4926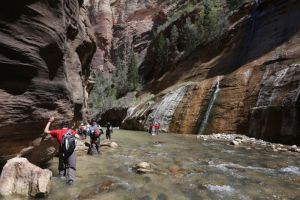 IMG 4892
IMG 4889
IMG 4838
IMG 4836
IMG 4826
IMG 4817
IMG 4776
IMG 4773
IMG 4722
IMG 4716
IMG 4706
IMG 4705
IMG 4654
IMG 4638
IMG 4615
IMG 4605
IMG 4589
IMG 4576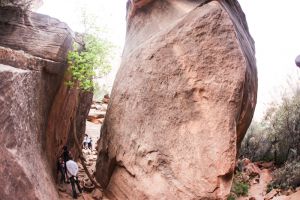 IMG 4520
IMG 4490
IMG 4486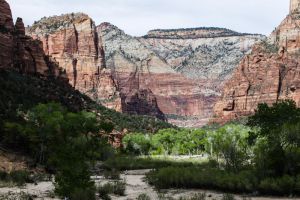 IMG 4478
IMG 4467
IMG 4458
IMG 4446
IMG 4431
IMG 4423
IMG 4411
IMG 4400
IMG 4385
IMG 4372
IMG 4370
IMG 4366
IMG 4359
IMG 4343
IMG 4321
IMG 4309
IMG 4297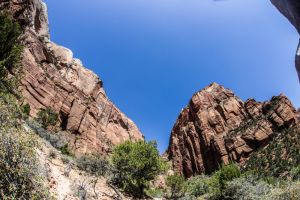 IMG 4281
IMG 4268