Immediately I put my stuff away in a locker (own lock, always good to bring one, either one with 4 numbers or 2 spare keys). First time ever I've seen a power socket within a locker, such a great idea! I would need to test if the 110V output doubles the required charging time compared to Europe and such.
Furthermore, I was happy to find a blank star on the hall of fame… (amongst the 2500 others). There is still hope!!
Did you know that it's not just stars? There is also the moon (with Appollo XI).
Everywhere on Hollywood Boulevard, you'll find agencies trying to offer you a tour. Most of them focus on the 'celebrity house' tour. When you think about that, it's a bit strange… houses of celebrities are very well guarded and will not show much of it's beauty except for a nice facade and gate.
However, I decided to take one of these tours since you can avoid a car rental that way for other sceneries. Official prices range between 35 and 40 USD for adults, you can easily get them down to 20 USD for a 2 hour trip. This might not be the case with tours booked in advance or with your hotel / hostel, so better to go arrange it by yourself. Depending on the company, you'll find available seats for the next drive (I think on averange every hour there is one starting)  or the one for the day after (you can always get another company). Some companies will also offer you additional coupons with discounts, on which you'll find the referral details for their commision.
That is how they mostly operate things here: based on commission and tips, including your guides (as a reference they wrote 5 USD for a good tour, 10 USD for a very good one). Dining & drinking services are about 15-20% tip. Service is a big thing here in the USA, even at the hostel (!) I had one person showing me around (however, I asked and that kind of service does not require a tip).
During the walk around Hollywood, you'll meet many kind of people: street performers, people in movie customes (even a very good Iron Man custome), preachers of 'jezus' (including people fighting with them. One of them told everyone his friend killed himself because of this preaching), crazy ones (one of them asked me if I saw the devil? He was serious…) and many homeless.
On Sunset Boulevard, I found a homeless man without any board for begging money and decided to walk up to him and ask why there are so many homeless people in L.A. I received a suprising answer: many felons are too lazy to work and just try to make money by asking for it. Another perspective a roommate gave me: they don't have much chances to get to work again because of their past. Furthermore, you'll find many homeless because of the climate here in California & Florida. Many of them especially at the beaches.
Some small things I learned during the Hollywood trip:
All the big movie studios & companies moved to the other side of the Hollywood hills, but still the movie business is huge here. They often still film scenes within L.A. city or the L.A. studios
Not just moviestars live in Hollywood hills and such, also producers, directors, etc get a piece of the cake
The climate is pretty stable in California (right now 26 degrees celcius), making it very comfortable
You can pay up to 85 million USD for a house in/around Mulholland drive
To buy / drink alcohol you need to be 21, but many kids have fake ID's. A good fake ID can cost up to 200 USD
A car rental can easily be up to 2000 USD / day (without insurance, don't remember the model 🙂 )
I've seen some cars without license plate…
There is a shop where you can still buy casettes!
The fines for smoking are rounded to 541 USD (not 500, not 540…)
I've also seen a guy beside the road with a billboard sign to attract customers for a house agency. He was twisting and doing tricks with it to get attention from the drivers..
IMG 2790
IMG 2779
IMG 2772
IMG 2765
IMG 2743
IMG 2702
IMG 2692
IMG 2682
IMG 2671
IMG 2660
IMG 2623
IMG 2615
IMG 2611
IMG 2600
IMG 2597
IMG 2594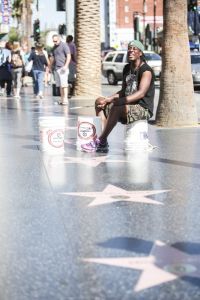 IMG 2586
Now I'm going out to see what there is to find at night!