We drove after sunset (less than 3 hours' drive on route 89). The freeways here don't have any street lanterns and people use the big light, which can blind you easily. We parked our car at Walmart in Page after some late night shopping, and obviously were not the only ones. We counted about 10 RV's and trucks that use the huge parking to spend the night. Did you know that at Walmart they even sell car tires and you can drive a trolley when you are unable or just lazy?
The time zone difference (Mountain Time versus Mountain Standard Time) makes it difficult to understand when shops & guided tours actually operate, so you need to make sure or you'll miss your tour.
The Antelope Canyons are the biggest landmark here, and booking in advance is highly recommended. Since 1997 you cannot do a self-guided tour anymore when a flash flood killed 11 French tourists in the water flowing at 75km/h. Photographers can take a specific photographic tour, where the guides will allow a lot more time and clear the way with people. A tripod and DSLR are mandatory and on most of these tours, tag-a-longs and shared equipment is not allowed. The price of these tours are about 75-88 USD (photo) versus 28 or 58 USD for a regular one (the most expensive is during primetime which runs between 10 and 1). A tour is about 2 hours. These lands are still owned by the Indian tribe Navajo, the entrance to Antelope includes a 8 USD fee that goes directly to them. Also, many tour operators & guides are native Navajo (but of course they speak perfectly English).
There are several sites to visit such as the lower & higher canyon and rattlesnake canyon. I only did the higher Antelope canyon, some pictures can be found below.
The best time to visit for pictures is around (or starting from) May and primetime (between 11 and 1), when several big light beams hit the rocks within the canyon. On the regular tours, you are not allowed to take any tripod or monopod, but if you have a high end camera, you can easily take amazing pictures, especially if you have a good tour guide, I had as operator Adventurous Antelope Canyon and my tour guide very clearly pointed out good picture opportunities and formations .
Another landmark in Page is the Horseshoe Bend, a horseshoe-shaped meander of the Colorado River. You can only understand the size of it by looking for small boats and tents at the bottom. I'm currently so tired and my lips have  many cracks, making it difficult to smile on the pictures. I didn't even know I could make a face like this one 🙂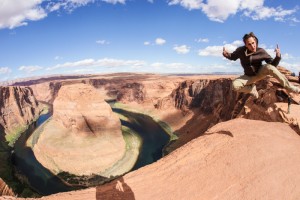 IMG 5570
IMG 5568
IMG 5554
IMG 5535
IMG 5532
IMG 5521
IMG 5519
IMG 5514
IMG 5502
IMG 5494
IMG 5467
IMG 5457
IMG 5452
IMG 5447
IMG 5441
IMG 5435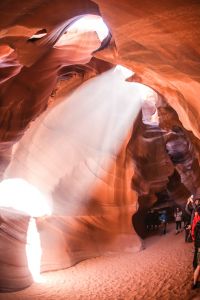 IMG 5431
IMG 5425
IMG 5423
IMG 5419
IMG 5417
IMG 5411
IMG 5368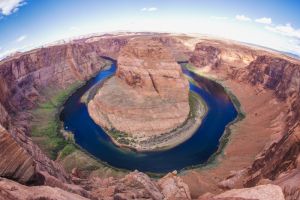 IMG 5211
IMG 5691
IMG 5634
IMG 5627
IMG 5598