In a previous post, I already made it clear that everyone in this country is very kind to eachother. In the tubes for example you have reserved seats for elderly, pregnant and people with other needs. They present these signs is a very 'friendly' and inviting way. And it actually works too! Several times, I've seen people getting up and offering their seat.
In Singapore, it is totally OK to wear sandals 🙂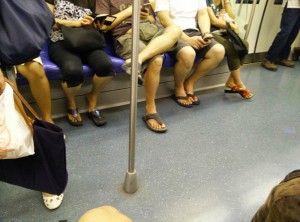 On my way to Little India, I met a french guy (Charles) and had a quick but very tastfull Indian meal with him. He made a very interesting comparision. Little India in Singapore is like Paris in Africa: everything is so chaotic with mostly only Indian people (compared to good mix, structure & cleanness elsewhere). The mustafa center is a very good example of this. Notice that before getting into this mall, the security sealed my backpack, just in case. I bought a pair of sunglasses there for 1.9 dollar, I almost forgot I was in Singapore 🙂
During the wanders, I also found a special Vitamin drink. The vitamins are on top, but not yet mixed with the water. By turning it over, shaking it, the vitamins are resolved.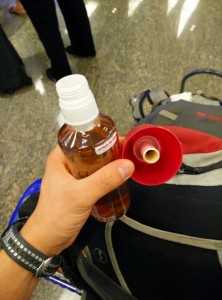 Singapore also hosts many parks and regions where people can getaway, especially for little children here and there you can find playgrounds of a very high quality.
We all know that China is very cheap, but here the commercial they use goes one step further. TigerAir (airline) promotes their flights to buy things in China for a low budget airline ticket, which will still be cheaper as buying things in Singapore. I believe it's true. I asked for a camera battery and the shopkeeper asked me 45 Singaporese dollar, where I can get in China below 10.
Alcohol regulations are also very strict, as you can see the sign below 'no drinking zone'.