Rome, a city that does not require much explanation…
Some practical things:
From airport Ciampino to the center you can find direct shuttle busses. If you're with a group, it's a good idea that someone queues to get a ticket, and the other ones go directly to the bus terminal since it can become real chaos there! The departure times can vary, in the end it does not really matter from which company you buy a ticket from, since they will lie about these times anyhow.
In the city, there are 2 main subway lines. You can buy a ticket from local newspaper stands for 1,5 euro. With that ticket you can travel for 100min.
To get back to the airport, for example fiumicino, you can take an (expensive) train or cheap direct shuttle bus for around  7 euro. The busses all leave around the bus terminal (depending on the company on another side)
In Rome, you will find that like in most big European cities, people will try to sell you everything and hang around bus stations and big landmarks.
The 'big' selling item was the 'selfie stick', a pole with a mount for your smartphone… very popular last year in Asia, and now dominating Europe.
For dayvisits, many people buy one of the combi tickets. However, when talking to people I noticed many of them actually have to do a longer queue as the ones buying a direct ticket. A example ticketprice for the colloseum is 16 euro / adult (same for the Vatican Museums and Sistine Chapel combi)
The colloseum is an amazing architecture, using an audioguide makes doing a self-tour interesting. There is also some explanation on the walls, but it can be convenient when you can walk around the circle in the meanwhile.
Another highlight is the Sistine Chapel. You can get into the Vatican till 4pm (it closes at 6pm, so there is always enough time). The queue to get into the Vatican can become large, however do not believe the people trying to sell you 'fast pass tickets' since these are highly overrated in price.
Before getting into the Sistine Chapel, you can wander around the wonderfull galleries and museums of the Vatican. It's incredible what they have all collected over the years.
In the Sistine Chapel, it's forbidden to take pictures. The reason is a commercial deal made during the restorations. But of course, there is always a way as you can see below 🙂
Most people pay a visit during the day, but for photographers it's a paradise by night!
A very interesting (night) itinary is found on TripAdvisor, the Rome City Guide.  This tour takes about 2 hours.
Piazza San Pietro
Castel Sant Angelo
Ponte Sant Angelo
Piazza Navona
Piazza della Rotonda / Pantheon
Fontana di Trevi
Piazza Venzia
Campidoglio
Fori di Triano
Colosseum
Forum Romanum
Pictures taken from these places can be found below, except for Fontana di Trevi (was closed for construction)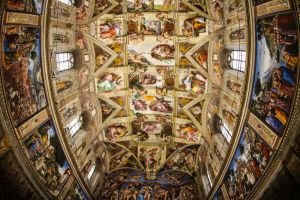 IMG 1309
IMG 1301
IMG 1291
IMG 1280
IMG 1229
IMG 1164
IMG 1161
IMG 1670
IMG 1615
IMG 1551
IMG 1547
IMG 1532
IMG 1519
IMG 1452
IMG 1414
IMG 1410
IMG 1405
IMG 1390
IMG 1376
IMG 1365
IMG 1357
IMG 1352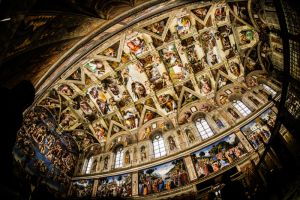 IMG 1327
IMG 1320